Register now for ASIA 2018 at early bird rates
Posted on: 30 January 2018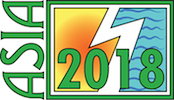 Registration is now open for Aqua-Media's Seventh International Conference and Exhibition on Water Resources and Renewable Energy Development in Asia - ASIA 2018 to be held in Danang, Vietnam, 13-15 March 2018. If you are planning to attend and have not booked your place, there are three good reasons to register on-line within the next few days:
The deadline for early booking fee is 2 February, and fees will increase from 3 February
Study tour places cannot be guaranteed after 7 February. There are opportunities to visit two projects in Central Vietnam, or, in the north: the major Lai Chau RCC dam and 1200 MW powerplant; or the recently completed 260 MW Trung Son plant, supported by the World Bank.
Early booking will also help to ensure that your first choice of hotel will be available
Go to the ASIA 2018 Registration home page...