Annex XIV: Management Models for Hydropower Cascade Reservoirs (2015 - present)
Objectives
Designing a single hydro plant and reservoir or operating and managing existing hydro plants are complex tasks. The challenges are compounded in a cascade system with different stakeholders and different requirements. Each hydropower reservoir has impacts and/or dependencies on other upstream and/or downstream projects, yet has to be optimized for power generation and water services, and has to meet all requisite environmental, safety, and social compliances.
The primary objective of this Annex will be to address the management models that optimize the flow discharges and dispatch of the units across the fleet of cascade reservoirs. However, it should be noted that while all aspects of the operation and management of hydropower cascade reservoirs will be noted, only the specific areas of significant concern to the participants will be addressed in depth in this Annex. Other issues will be identified for completeness and possible future research and study.
Deliverables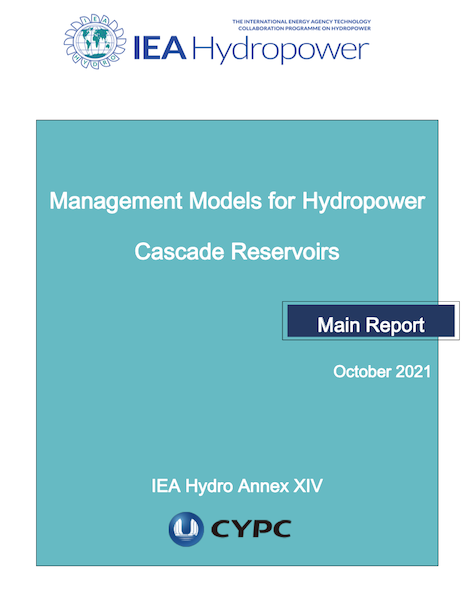 Management Models for Hydropwer Cascade Reservoirs (IEA & CYPC, 2021)
In October 2021, Annex XIV published its report on Management Models for Hydropower Cascade Reservoirs. The Annex has conducted a series of analyses on the world's major river basins in three aspects, including basic conditions of cascade reservoirs, management mode of cascade reservoirs, and key technologies of cascade operation. Case studies are drawn from Brazil, Canada, China, Norway and the US.
The report is is 4 sections. Download them individually:
OR
Download the entire report (10MB)
---
Tasks
Key issues to be covered include:
• Safety compliance, specifically the routing of large floods
• Consistent management of environmental and social risk issues
• Meteorological and hydrological monitoring, modelling and forecasting, flow routing, specifically the interdependencies along the cascade
• Flow dispatch approaches for power generation optimization including coordination with other sources of generating (thermal, nuclear etc.).
• Dispatch rules for providing other energy and water services
• Operational constraints and their cumulative impacts
Enabling issues that will also be addressed include
• Communication models between cascade reservoir operators and managers
• Governance models, specifically for multiple owners and cross boundary issues
Operating Agent
Mr. LIU Haibo
Deputy Director
Cascade Dispatch Center
China Three Gorges
Power Operation International Co. Ltd
Email: liu_haibo@cypc.com.cn
---
Participation
For more information about this Annex or to express interest in particpating please contact the Operating Agent
Annex Members' Login
Certain annex information is protected and can only be accessed by members. Please login with your username and password to view the page.