International Energy Agency Reports
Net Zero by 2050 - A Roadmap for the Global EnergySector
The first ever IEA market report dedicated to hydropower highlights the economic and policy environment for hydropower development, addresses the challenges it faces, and offers recommendations to accelerate growth and maintain the existing infrastructure. This report presents ten-year capacity and generation forecasts for reservoir, run-of-river and pumped storage projects across the globe, based on bottom-up country and project-level monitoring. It points out that present growth rates are far below global growth-rates needed to reach net zero greenhouse gas emissions by 2050.
Download the report here: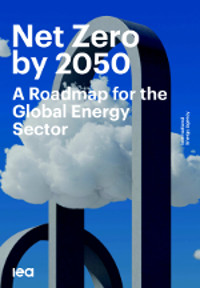 ---
Hydropower Special Market Report - Analysis and forecast to 2030
This special report is the world's first comprehensive study of how to transition to a net zero energy system by 2050 while ensuring stable and affordable energy supplies, providing universal energy access, and enabling robust economic growth. It sets out a cost-effective and economically productive pathway, resulting in a clean, dynamic and resilient energy economy dominated by renewables like solar and wind instead of fossil fuels. The report also examines key uncertainties, such as the roles of bioenergy, carbon capture and behavioural changes in reaching net zero.
Download the report here:
---
Projected Costs of Generating Electricity
Projected Costs of Generating Electricity – 2015 Edition (IEA, 2015) is the eighth report in the series on the levelised costs of generating electricity. This report presents the results of work performed in 2014 and early 2015 to calculate the cost of generating electricity for both baseload electricity generated from fossil fuel thermal and nuclear power stations, and a range of renewable generation, including variable sources such as wind and solar. It is a forward-looking study, based on the expected cost of commissioning these plants in 2020. View information about the report here.
Download the Summary Repor below.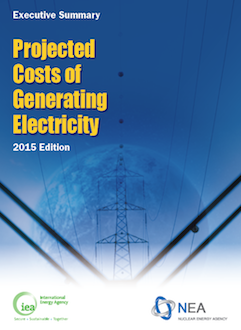 IEA Roadmap for Hydropower
The International Energy Agency's Technology Roadmap for Hydropower (IEA, 2012) details action needed from policy makers to allow hydroelectric production to double, and addresses necessary conditions, including resolving environmental issues and gaining public acceptance. Hydropower could double its contribution by 2050, reaching 2,000 GW of global capacity and over 7,000 TWh. This achievement, driven primarily by the quest of clean electricity, could prevent annual emissions of up to 3 billion tonnes of CO2 from fossil-fuel plants. The bulk of this growth would come from large plants in emerging economies and developing countries. Download a copy below.