Annex IX: Hydropower Services (2011 - Present)
Objectives
The objectives of Annex IX are to
Value grid services provided by hydropower, such as ancillary services to stabilize the electric grid
Analyse, value and allocate hydropower's non-energy services such as flood/drought protection, irrigation, water supply, navigation and recreation.
Annex IX has the overall aim is to enhance the understanding of:
the type of energy and non-energy services hydropower can provide to energy security, water security and sustainable development
the potential consequences of providing such services for the hydropower sector in terms of required adjustments in operation, maintenance and development practices
appropriate economic assessment methods to quantify the value of these services
how the costs of providing multiple services are apportioned between the various stakeholders
how regulatory frameworks, market mechanisms and business models can sustain, or hamper, the optimal deployment or development of multipurpose hydropower services
Deliverables
October 2017: Summary Report
VALUING HYDROPOWER SERVICES: The Economic Value of Energy and Water Management Services provided by Hydropower Projects with Storage was published in October 2017.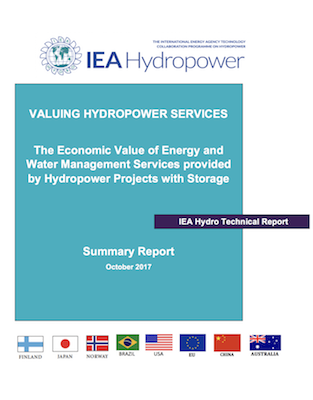 2017: Communication strategy and material / dissemination
---
Methodology
1. Identify the organisations interested in participation and collaboration and the staff within these organisations who will participate.
2. Undertake a Literature Review of previous work on the topic
3. Develop a project plan, with activities and schedule, of the work required to meet the task objectives
4. Undertake work and prepare a report on the outcomes
5. Disseminate the results
Case studies will be used to validate economic assessment methods, quantifying the added value created by a specific hydropower scheme, in a given river basin, through its various multipurpose enabling functions.
Workshops & Conference Sessions
July 2015, HydroVision, Portland, USA
October 2015, HYDRO 2015, Bordeaux, France. Download paper: Economic Benefits of Multipurpose Hydropower Reservoirs in the United States

---
Tasks
The Annex has two Tasks, organized as follows:
Task 1- Valuation of energy management services (power services). Task Manager - Argonne National Laboratory, USA
Task 2 - Valuation of non-power services. Task Manager to be determined.
Non-power services include
Water management
Regional development
Human development
Environmental services
Task Members
Associated Task members: France, Finland, Australia, Japan, Brazil
Collaborative international organizations: IHA (MoU under development), ICOLD, WWC, Eurelectric WG - Hydro, World Bank, NHA, GTZ, UNESCO, Division of Water Science
---
Participation
IEA Hydro invites interested parties to contribute to this program of work. For more information, please contact the IEA Hydro Secretary
Annex Members' Login
Certain annex information is protected and can only be accessed by members. Please login with your username and password to view the page.