Annex IX: Valuing Hydropower Services - Phase II: Utilization of Hydropower Flexibility Capability in Evolving Energy Systems (2018 - present)
Background
IEA Hydro initiated a programme (Phase I) to investigate the value of services provided by storage hydro projects through the establishment of the economic values of energy management, water management and other socio-economic services. All hydropower projects which have any form of reservoir (even diurnal storage) are multipurpose and the services analysed are potentially applicable to all projects. Historically, the broad range of energy and non-energy services provided by hydropower plants have not been explicitly valued, being part of a utility's mission.
Since the start of Phase I, two key issues affecting the hydropower sector have arisen; the penetration of variable renewable energy (VRE) sources has increased substantially and the potential impacts of climate change are being recognized. These dynamics pose both challenges and opportunities for hydropower and require further exploration and analysis beyond the scope of the original Annex work. This will form the basis of Phase II.
Phase II will consider the role of hydropower in producing significant amounts of firm renewable energy and storage to support VRE's, and providing flexible energy services to support electricity systems – collectively termed 'hydro balancing'. Specifically, Phase II will develop an understanding two key strategic themes:
how hydropower will be valued in future electricity market scenarios, and
how hydropower will be valued under alternate climate change scenarios
Objectives
PHASE II (2018 - )
This Phase will start with a Kickoff Meeting in Brussels, 3-5 December 2018. More information here...
TASK 1 – Energy, Grid Services and Adaptation
Task 1 Objectives
To present a holistic coverage of the role of hydropower in providing hydropower balancing and flexibility services to the electricity grid. This will allow hydropower developers, agencies, regulators and stakeholders to have a clear understanding of the issues and options for management and mitigation.
To highlight the important role for hydropower in new and transitioning power systems globally. This will enable the appropriate valuing (and incentivizing) of hydropower balancing and flexibility services.

Subsets of this Objective include:
Clearly identifying the role of hydropower and the energy services provided in various future scenarios,
Addressing issues, alternatives and options for flexibility and balancing
Estimating costs in providing services and subsequent benefits to the power system
TASK 2 – Climate Change Adaptation Services:
Task 2 Objectives
Understanding therole of hydropower in minimising or mitigating risks associated with a changing climate
Assessing the value that hydropower provides in minimising or mitigating risks associated with a changing climate
TASK 3 – Hydropower Balancing and Flexibility Roadmap.
Task 3 Objective
To collate the outputs from Annex Tasks into a Hydropower Balancing and Flexibility Roadmap and its dissemination.
Deliverables
PHASE I

PHASE 1 (2015 - 2017 ) - COMPLETED
IEA Hydro's work on Valuing Hydropower Services (Annex IX) included a multi-country review that investigated the many factors contributing to the full value of hydropower and its associated services.
October 2017: PHASE I SUMMARY REPORT

VALUING HYDROPOWER SERVICES: The Economic Value of Energy and Water Management Services provided by Hydropower Projects with Storage was published in October 2017.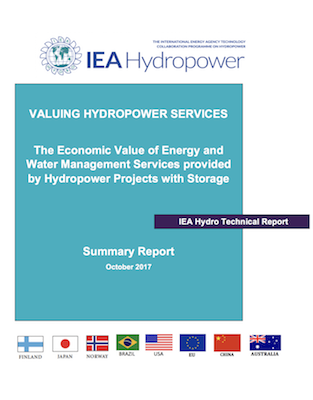 IEA Hydro's work on Valuing Hydropower Services (Annex IX) included a multi-country review that investigated the many factors contributing to the full value of hydropower and its associated services. It is apparent that in many jurisdictions, the multiple value chains are not always appropriately recognised. As power systems transition and hydropower adjusts to new operating conditions, utilizing new or existing technologies, IEA Hydro members believe it is essential that policy, regulatory and financial instruments evolve to appropriately recognise the important contributions that hydropower provides. Understanding these roles was an objective of the Summary Report, which covers:
Services provided to energy security, water security and sustainable development
Basic methodological concepts to assess the value of services
Suitable economic assessment approaches to quantify the value of services
Preliminary valuations of key energy and water management services
Initial assessment of the appropriate valuation methods for each service
Basic methodologies to estimate fair allocation of costs between various stakeholders
PHASE II
OCTOBER 2019 - WHITE PAPER
Flexible hydropower providing value to renewable energy generation (IEA Hydro Annex IX, October 2019)

The White Paper describes the role of hydropower and the need for flexibility in the future electricity system, aiming to provide a high-level overview of key issues with the intent of identifying priority areas for furtherin-depth reviews and analyses. As increasing shares ofvariable renewable energy sources (VRE) are integrated into electricity systems, the need for flexibility and energy storage at timescales ranging from milli-seconds
to months arise. Hydropower is the largest source of renewable energy today, with hydropower and pumped hydro storage playing an important role in integrating and balancing VRE.
---
Methodology
1. Identify the organisations interested in participation and collaboration and the staff within these organisations who will participate.
2. Undertake a Literature Review of previous work on the topic
3. Develop a project plan, with activities and schedule, of the work required to meet the task objectives
4. Undertake work and prepare a report on the outcomes
5. Disseminate the results
Case studies will be used to validate economic assessment methods, quantifying the added value created by a specific hydropower scheme, in a given river basin, through its various multipurpose enabling functions.
Workshops & Conference Sessions
October 2019 White Paper to be launched at HYDRO 2019, Porto
February 2019 Annex Meeting, Japan
3-5 December, 2018, Brussels. Phase II Kick-off meeting. The overall purpose of the Kick-Off workshop was to define the scope of research and the work plan to reach the Annex Objectives, as well as confirm the participants who will contribute to the Annex. Following presentations by the IEA and others on the work being undertaken on related topics covering valuing hydropower flexibility, a "gap analysis" was conducted to identify key research topics required to meet the Annex objectives that are not presently being covered. The workshop concluded with the development of a work plan and the participant's contributions to the research.
October 2018, HYDRO 2018, Gdansk, Poland
October 2017, HYDRO 2017, Seville, Spain
October 2016, HYDRO 2016, Montreux, Switzerland
October 2015, HYDRO 2015, Bordeaux, France. Download paper: Economic Benefits of Multipurpose Hydropower Reservoirs in the United States
July 2015, HydroVision, Portland, USA
---
Task Members
Associated Task members: Australia, Brazil, EU, Finland, Japan, Norway, United States
Collaborative international organizations: IHA (MoU under development), ICOLD, WWC, Eurelectric WG - Hydro, World Bank, NHA, GTZ, UNESCO, Division of Water Science
Participation
IEA Hydro invites interested parties to contribute to this program of work. For more information, please contact the IEA Hydro Secretary
Annex Members' Login
Certain annex information is protected and can only be accessed by members. Please login with your username and password to view the page.