Annex IX: Valuing Hydropower Services - Phase II (2018 - present) including Annex IX/Annex XII Joint Task ( 2019 - present)
Find out about Annex IX here...
News
Latest Annex IX Phase 2 Report Released June 2021
Annex IX has released its latest report, Valuing Flexibility in Evolving Energy Markets: Current Status and Future Outlook for Hydropower. Using a range of international case studies, the report presents a system-level review of how flexibility services are defined, procured, and valued in selected electricity markets, with a particular focus on the status and outlook for hydropower. Download the report here...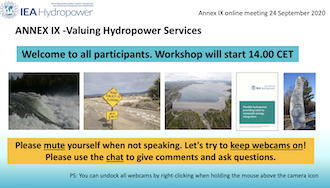 Annex IX & Annex XII Joint Online Meeting on Flood Control & Drought Management Services
An third online meeting was held on 24 Septembert 2020, with almost 50 participants representing 18 countries or organisations. Read the meeting notes here...
______________________________________
Annex IX Online Workshop on Flexibility in Evolving Energy Markets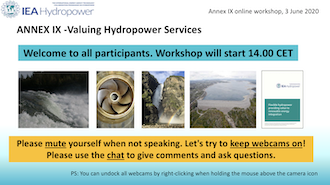 Annex IX held a successful online workshop on 3 June 2020, with 60 participants representing 18 countries or organisations. Read more and download the presentations here...
________________________________________________________________________
Annex IX & XII Joint Online Workshop on Flood Control Services
Covid-19 restrictions on face-to-face meetings has not stopped IEA Hydro's ongoing work, with Annexes IX and XII hosting our first online workshop on Flood Control and Drought Management Services on 27 May 2020. 35 participants from 14 countries and organisations made presentations or contributed to the Q&A on. See here for details...
_________________________________________________________________________
---
Participation
IEA Hydro invites interested parties to contribute to this program of work. For more information, please contact the Operating Agent, Atle Harbe
Annex Members' Login
Certain annex information is protected and can only be accessed by members. Please login with your username and password to view the page.