Annex XI - Renewal & Upgrading of Hydropower Plants
(Completed March 2016)

Objectives
To provide useful information for the successful management of renewal and upgrading projects of existing hydropower to hydro professionals such as hydro-owners, operators and future developers, hydro planners and designers, etc.
The Annex sought case histories to cover:
Strategic planning of hydroplant renewal and upgrading programs (asset management approach)
Decision making criteria in the selection of the renewal and upgrading plan, including energy policy, energy security and integrated water resource management
Strategic planning approach, including how financial support schemes (CDM, green certificates, feed-in tariffs) influence decisions to invest in renewals and upgrades.
Innovative management approaches to renewal and upgrading of hydropower plants, covering: Project delivery Workforce organization and management Innovative environmental management approaches during renewal and upgrading of hydropower plants Approaches taken in developing countries Overall statistics of hydroplant renewal and upgrading programs, including costs
Deliverables
Two volume report covering good practice in the renewal and upgrading of existing hydropower plants, published March 2016.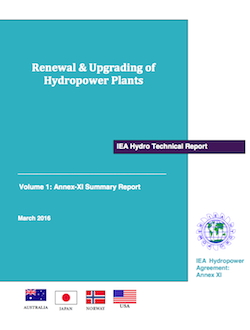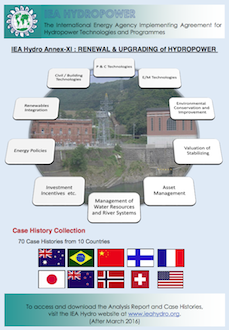 A Flyer describing the work of the Annex is also available. Download Annex XI Report Flyer
Member Countries: Japan (OA), Norway, Australia and USA, with other countries providing case studies.
---
For more information about this initiative please contact the Operating Agent:
Takashi AKIYAMA
Director
New Energy Foundation
International Affairs and Technology Department
Hydro and Geothermal Power Development Center
Tokyo
JAPAN
email: hydropower@nef.or.jp