ANNEX II - SMALL-SCALE HYDROPOWER (Completed 2017)

Definitions of small hydro vary from country to country, but the benefits are universal. Read more about small-scale hydro here.
IEA Hydro's Annex II on Small-Scale Hydropower was active from 1995-2017 in several areas.
Assessment tools & methodologies, financing, economic risk & sensitivity analysis and more
Analysis of government policies & experiences, what works & what doesn't
Providing a forum for the exchange of small-hydro data through this website
Providing information on state-of-art technologies for the development of small hydro projects
---
DELIVERABLES
Task A5: Guide for Sustainable Small-Scale Hydropower Projects (2019)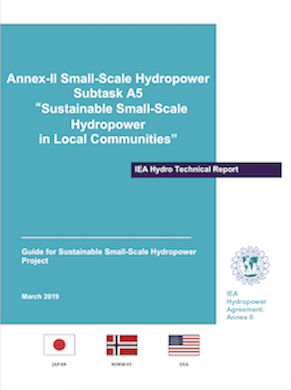 Purpose of this Guide
By using this guide, planners, operating officers and decision makers for small-scale hydropower projects can search and refer to relevant information on about 290 effective measures for economic and social sustainability, derived from 23 case histories from 10 countries. Such information will help the user verify and improve the sustainability of their own projects.

This guide is an interactive e-book consisting of the main text and reference documents (downloaded together in a zipped folder). Following links in the text will take you to extensive case studies. In Chapter 3 the user can systematically search for specific measures related to sustainability. Chapter 4 documents success factors of the measures and topics considered in each stage of the projects that have been successfully implemented.

DOWNLOAD the Overview brochure
DOWNLOAD the Interactive Guide for Sustainable Small-Scale Hydropower Projects (Zip folder containing the guide and linked documents)
_____________________________________________________________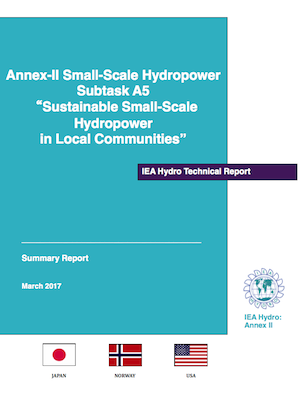 TASK A5: Sustainable Small-Scale Hydropower in Local Communities. COMPLETED 2017
DOWNLOAD the Report Brochure here.
DOWNLOAD the Report
The Final Report (March 2017) consists of a Summary Report and 3 Appendices. Download the report as follows:.
_____________________________________________________________
TASK B2: Innovative Technologies and applications for small, mini and micro hydro. COMPLETED 2010.
Report findings and detailed informaton are available on our Small Hydro Innovative Technologies page
TASK A1: SMALL HYDRO INTERNATIONAL GATEWAY

In 2012 the task force on Small-Scale Hydropower (Annex II) launched its Small Hydro International Gateway to facilitate the development of new small hydro projects.
As of 31 May 2017 the Small Hydro International Gateway closed, with small hydro resources integrated into the IEA Hydro website and now accessed via the links from this page.
Resources previously accessed via the Annex II Small-Hydro International Gateway have been reviewed, updated and integrated into the IEA Hydro website. From 31 May 2017 easy access to the resources is as follows:
SMALL HYDRO INNOVATIVE TECHNOLOGIES - See here
ASSESSMENT TOOLS AND METHODOLOGIES - See here

EXTERNAL REPORTS & OTHER RESOURCES: A database of reports on all aspects of small hydro and access to other resources from a variety of international sources. Access the small hydro resources here.


PAST ANNEX II REPORTS: Download all reports of this Annex from our Publications page.